Employment and Volunteer Opportunities
Volunteer Coordinator 
Hospice Society of Camrose & District 
Position Profile
Job Description 
The Hospice Society of Camrose & District (HSCD) Volunteer Coordinator is responsible for coordinating client support activities of the HSCD volunteers both in inpatient and non-inpatient care settings. Duties include recruitment, screening, orientation, and placement of volunteers.

Position type
Permanent part time employee: 20 hours per week

Reporting
The Volunteer Coordinator will report as directed by the board.

Key Responsibility Areas:
Volunteer recruitment and training, recognition, and retention:
Develops, implements, coordinates, and evaluates the HSCD Volunteer Training Program
Recruits, screens, interviews, and selects volunteers for service at the HSCD.
Provides training and orientation to new volunteers.
Maintains ongoing volunteer relations.
Organizes meaningful volunteer recognition.
Activates effective means of volunteer motivation and retention by providing ongoing training and support. 
Conducts on-going evaluation of volunteers' assignment and contributions and processes as appropriate.

Volunteer leadership and organization:
Plan, organize and coordinate all volunteer activities specific to client support as required for the full implementation of the HSCD goals and objectives.
Select and assign volunteers for all volunteer requests within the catchment area of the HSCD, for client support in a timely fashion.
If volunteer requests fall outside the catchment area of the HSCD, offer appropriate resources.
Ensure that volunteer activities are consistent with the overall HSCD goals and objectives and that these goals and objectives can be met with available resources.
Ensure the volunteer activities meet targets, budgets, and timelines, with appropriate reporting and evaluation.
Maintain a regular flow of correspondence with volunteers.
Ensures safety, well-being and protection of clients and volunteers.
Visits clients/families, as appropriate, to interpret the role of the volunteer, to assess needs, and to offer volunteer support services.

 Additional responsibilities and duties:
Acts as a liaison between HSCD, the community at large and the volunteers and recipients of the service.
Compiles volunteer program statistics, prepares and analyzes volunteer activity reports via Better Impact.
Develops and maintains an up-to-date departmental manual of the Volunteer Services program.
Develops and updates volunteer training and procedure manuals, interprets policies and procedures for volunteers, monitors program effectiveness.  
Recommends program changes, participates in, and may initiate development of new volunteer programs.
Responsible for entries into, and maintenance of Better Impact.
Responsible for volunteer documentation, including client care records, training hours and maintains files defined by the HSCD using Better Impact.

Performs other related duties as requested by the BOD of the HSCD. Reports on a monthly basis to the board; reports will follow the template set out by the board of the HSCD.
Personal Attributes/Skills/Abilities
Excellent interpersonal and communication skills/problem solving. Excellent leadership skills Enthusiastic individual who enjoys people Time management and organizational skills Flexible, self-motivated Creative and agile thinking skills Positive attitude
Education and Experience 
Bachelor's Degree or equivalent experience in the volunteer/non-profit field. Experience related to palliative and end of life care would be an asset. 
A minimum of 2-year of previous hospice, medical, or volunteer organization experience is preferred.
Able to act in a kind, decent and respectful manner always.
Able and willing to work effectively with diverse people and/or populations.
Experience in networking and working with rural populations.
Excellent written and verbal communication skills in English, including report writing, and presentations.
Able to adhere to the practice of confidentiality regarding clients, families, staff, and the organization.
Must be able to recognize, support and adhere to all HSCD policies and procedures.
Excellent interpersonal, time management, problem solving and organizational skills.
Skilled use of Word, email, PowerPoint, Excel and the Google Cloud Platform.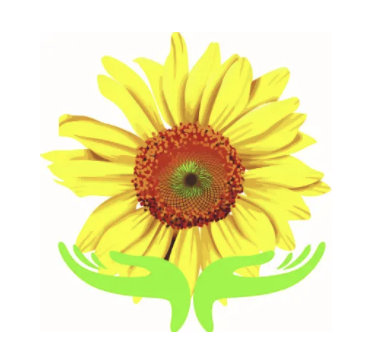 Hospice is seeking
NEW BOARD MEMBERS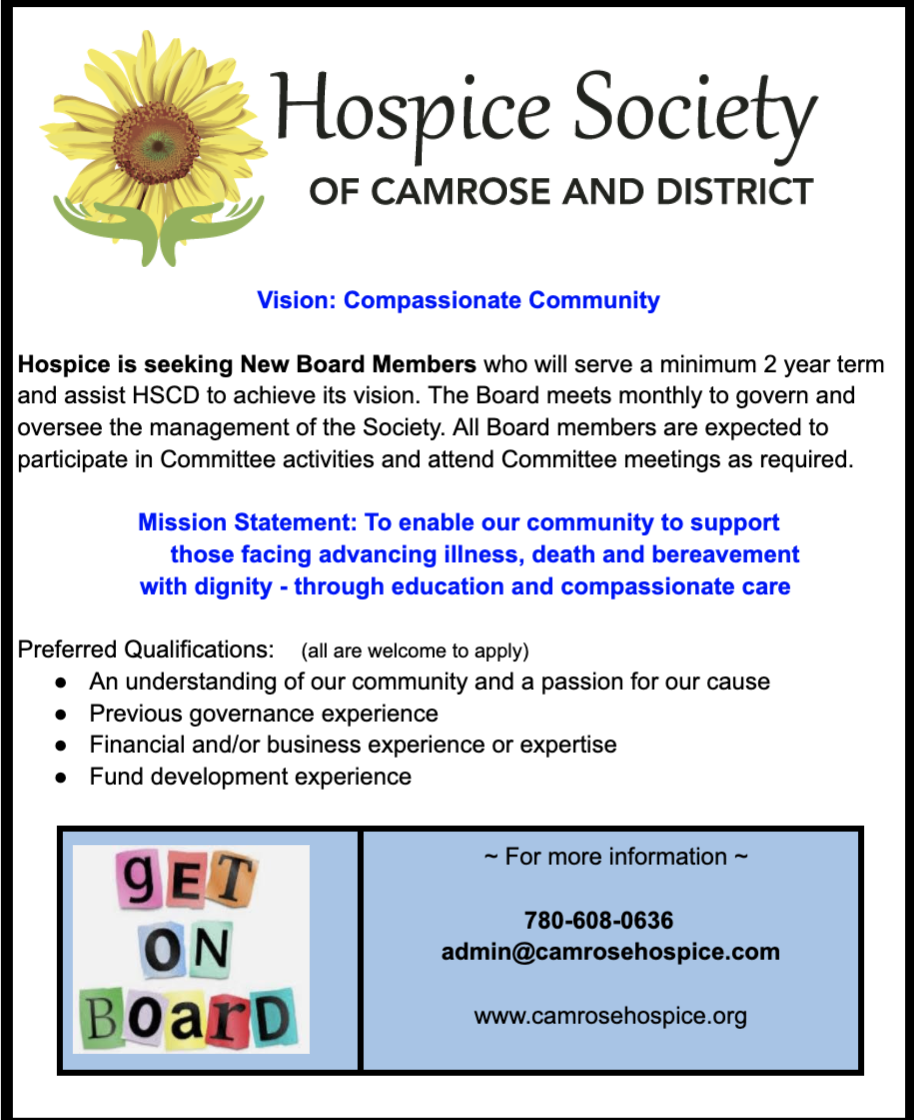 Now Recruiting Hospice Volunteers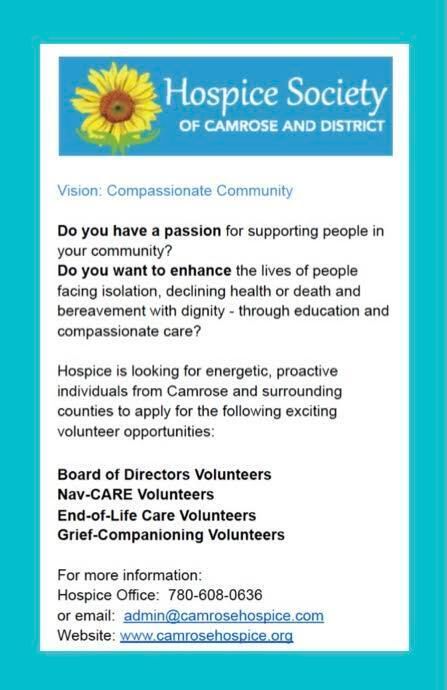 Join our online community by signing up for email updates and newsletters
Grief Support Walk
Sometimes it's easier to talk side by side, while taking in nature's best.
In warm months, we walk around Mirror Lake together followed by coffee and conversation back at Hospice.
During the cold months, we meet at the Camrose Recreation Centre walking track.
This drop-in group meets every Wednesday morning at 9:30am , coffee at 10:00. If you only want to come for coffee and conversation, that's great too!
Location
: 
Hospice Office at Mirror Lake Center
 (lower level, south side entrance).
Please register with the Hospice volunteer when you arrive. 
Men's Cooking Circle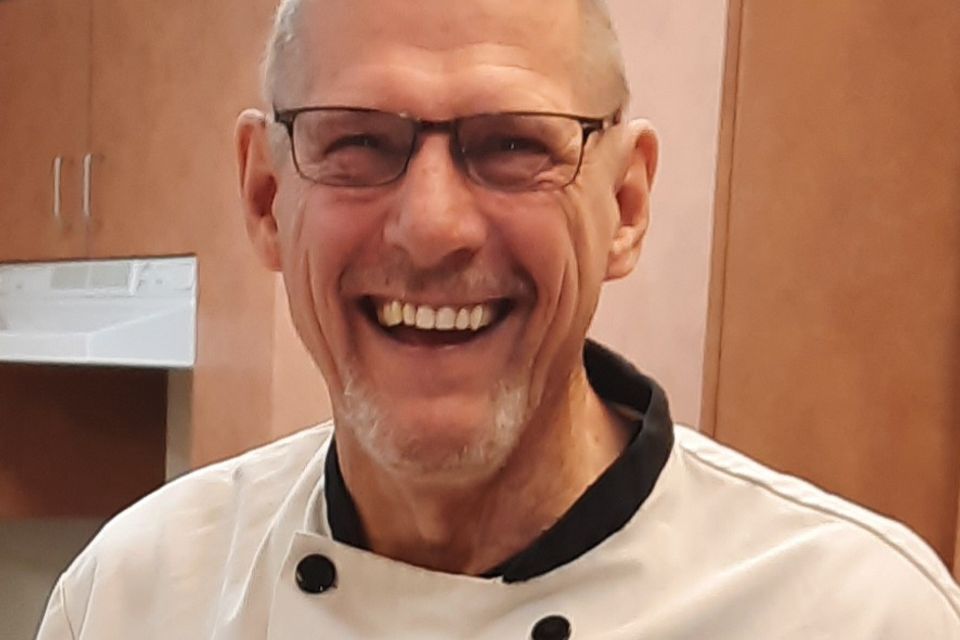 Men's Cooking Circle is an opportunity to learn basic cooking skills, meet other men, cook and eat together, and to engage in conversation with men who are experiencing grief.
All grieving men are welcome, however, first seats are given to those men who are bereaved of their partner. Participation is capped at 8.
Next Cooking Circle
Dates: Thursdays, September 7th to  October 5th, 2023
Location: CAFCL kitchen
Time: 3:00-5:30pm
To register by phone call - 780-608-0636
or email
admin@camrosehospice.com